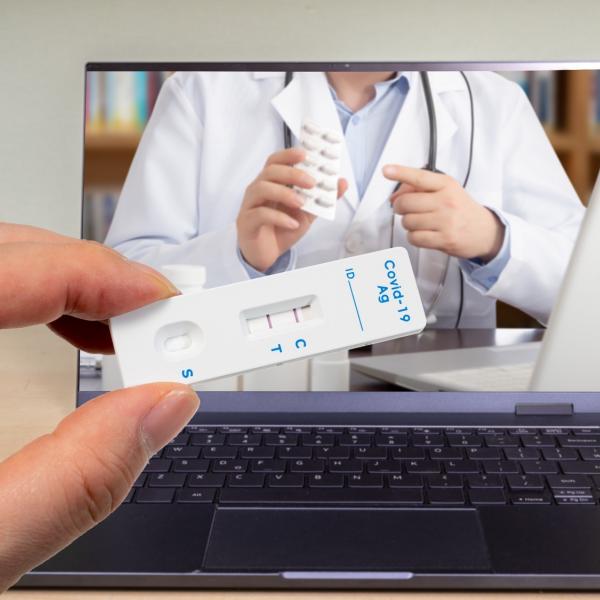 30 Mar 2020
8 ways Governments and Hospitals are Using Technology to Handle COVID-19 Outbreak
6 minutes read
Ever since the novel coronavirus (COVID-19), broke out in Wuhan, China, it has spread to 100 other countries. Health authorities, policy makers, scientists and innovators are racing against time to find ways to contain the outbreak, spread and to find a cure. Several tech companies have joined this quest to help bring respite to mankind in combating COVID-19 through technology.

Europe is now the epicenter of the pandemic. Case counts and deaths are soaring in Italy, Spain, France, Germany and more adding to the list by the day. In the light of this, many countries have announced lockdowns and closed borders.

It is noteworthy to mention that some countries like South Korea and Singapore have so far been able to contain the pandemic intelligently by combining technology with other measures. Let us now explore how technology has helped in some countries to gain some measure of control.

1)COVID-19 Testing Kits




Amidst these dire trends, South Korea has emerged as a role model and a country to emulate.

After the novel Coronavirus first emerged in China, the Korea centers for Disease control and prevention raced to develop necessary tests and offered completed assistance to diagnostics manufacturers to develop commercial test kits.  Robust and widespread testing became South Korea's mantra to combat the deadly virus. Within 3 weeks of the detection of the first case in South Korea, the country was producing 100,000 kits per day. They created about 600 testing sites and drive through testing centers and the results would be available within hours. Seoul immediately began testing asymptomatic people rather than just restricting the test to those with severe conditions or with a history of exposure. South Korea also treated patients with mild or no symptoms in order to constrain further spread and reduce the strain on hospitals.

Elsewhere, independent firms have been working overtime to mass produce low cost testing kits that give results faster than the existing ones.  Mylab Discovery Solutions, an Indian company has now released its first batch of testing kits in some cities of India. Abbott Labs meanwhile, has also been given the green signal by Food and Drug Administration (FDA) to release the COVID19 testing kits. This molecular test can diagnose infections within minutes. The test is highly portable and can be used in a wide variety of settings. They are expected to be shipped this week and testing to begin by April 1. Roche has already begun shipments of its testing kits across the US.

2)Contact Tracing of Corona Patients

The Government of South Korea is smartly using records such as credit card transactions, smartphone location data and CCTV videos as well to help track confirmed cases. The result was a map which would tell people whether they had gone near a coronavirus carrier. This comes with a potential cost in civil liberties that other nations may not seek to emulate.

The Singapore government also rolled out the TraceTogether app which uses Bluetooth signals between cell phones to see if potential carriers of the virus have been in close contact with other people. The app can identify and alert people who have been within 2m of a coronavirus patient for at least 30 minutes. This app could prove extremely useful especially when people cannot recall with whom they have been in close proximity for extended periods of time.

3)Cell Phone Coordinates to Enforce Quarantine

Israel's security agency Shin Bet, is using citizens' cell phone location data to track where they have been so that they can enforce quarantine controls and track movements of those infected. Israel passed an emergency law in an overnight sitting of the cabinet to use mobile phone data for tracking purposes.

Meanwhile in Hong Kong, some residents were fitted with wristbands which is linked to a smart phone app and could alert authorities if a potentially exposed person left their place of quarantine. However, this wristband was fixed to all arriving passengers and placing them under quarantine and medical surveillance so that they had better control over the rapidly spreading infections

4)Telehealth App for Virtual Consultations

Singapore's telehealth app called MaNaDr has been developed by family physician, Dr. Siaw Tung Yeng to enable virtual consultations. 20% of the island's doctors offer some level of service through the app. In an effort to control escalating Coronavirus cases, people with symptoms get pre-screened by the physicians and advised to stay home if they do not require intensive care. Patients can subsequently update their telehealth doctors if their fever persists or they develop shortness of breath or are feeling worse. If the doctor feels that the patient is getting worse, they send an ambulance to the patient's residence to take them to the hospital. This method of treatment serves a twofold purpose, one it prevents the spread of the disease which is a possibility when a possible carrier/patient physically visits a clinic and secondly it helps many cases which are not severe to be treated from the comfort of the patient's home itself avoiding overcrowding at hospitals and straining limited resources.

5)Delivery Robots to Serve Quarantined Patients

In China, local hospitals are also using autonomous service delivery robots to deliver food and medicines to those admitted under quarantine. A number of autonomous driving vehicles that are  equipped with all terrain, 3D mapping and large scale visual and sensor navigation technologies have also been deployed. By minimizing human contact further spread of the disease as well as cross contamination is prevented.

6)Temperature Screening for COVID-19 by Robots

In China, 5G powered robots have been deployed for temperature screening at shopping malls and areas with large volumes of people. These robots are capable of taking temperatures of up to 10 people simultaneously using thermal imaging cameras and sensors. They are also fitted with facial recognition systems so that if they detect someone with higher body temperature, they can alert the authorities to test the person for Coronavirus.

7) Analyzing Data from Surveillance Cameras

The data captured by surveillance cameras along with the data from the temperature screening robots is being used to further slowdown the spread of the virus in China. The SenseCare Smart Health Platform is being widely used at several hospitals. The doctors are able to study images of suspected pneumonia cases and assess the level of lung abnormalities thereby aiding diagnostic procedures.

8)Hainan Health Codes

Alibaba and Tencent Holdings have created a color based system for tracking individuals with Coronavirus on a national level. The Chinese government can use the system to assign different QR codes to indicate if people have the disease or at risk of catching it. The system has already begun as a pilot program in Hangzhou. Those with a green code are free to travel anywhere while those assigned a yellow or red code require a period of quarantine.
Conclusion

 

 

Battling a pandemic as serious as COVID-19, requires drastic responses and hence political leaders and public health officials have turned to some of the most radical strategies. Technology plays a big part in the combat of this dreaded pandemic
Read our latest Blogs...
Have a Business Inquiry?
Get in touch