InfoVision Named Leader in 2022 Zinnov Zones for ER&D Services
  Texas InfoVision has been positioned as a leader in four categories of the 2022 Zinnov Zones for ER&D Services Ratings
InfoVision, a leading global IT services and solutions company, announced that it has been recognized as a leader in four categories of the acclaimed Zinnov Zones for ER&D Services Ratings in the 2022 edition. This recognition bolsters InfoVision's commitment to steer technology-led disruptions while accelerating digital transformation for its customers worldwide. InfoVision was positioned in the Leadership Zone in the following four segments in 2022:
ER&D Services US
Digital Engineering (SM)
Telecommunication (SM)
Data & AI Engineering (SM)
InfoVision has developed specialized capabilities to drive innovation, rethink workflows, and transform experiences to help businesses stay ahead in a rapidly competitive landscape. InfoVision's expertise in emergent technologies as well as leading technologies such as Blockchain, AI/ML, AR/VR, and Metaverse positions the Solutions Provider as a partner of choice in supporting digital transformation for global customers.
Zinnov Zones' ratings are perceived as the industry standard for benchmarking Service Providers across various capabilities. Over 75+ top global Technology Service Providers were evaluated for the recognition this year. The ratings were based on an elaborate process that included self-assessment, detailed interviews, feedback from industry stakeholders and analyst evaluation.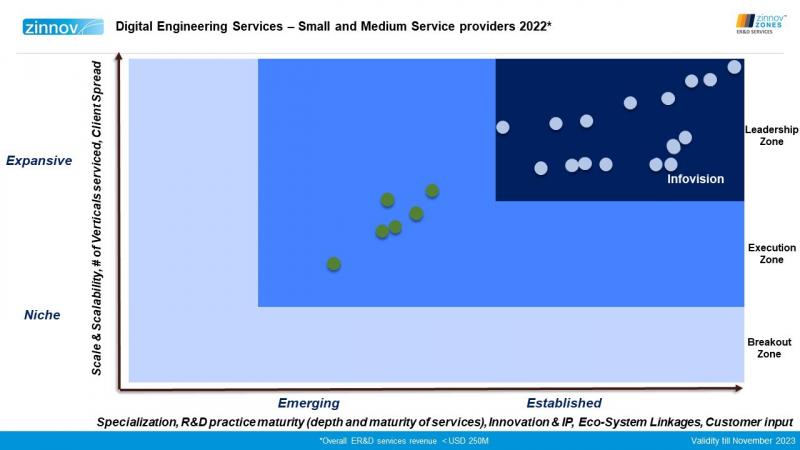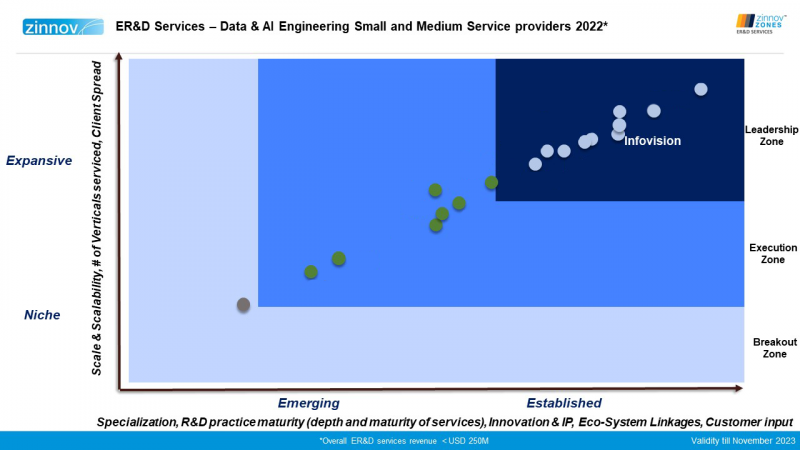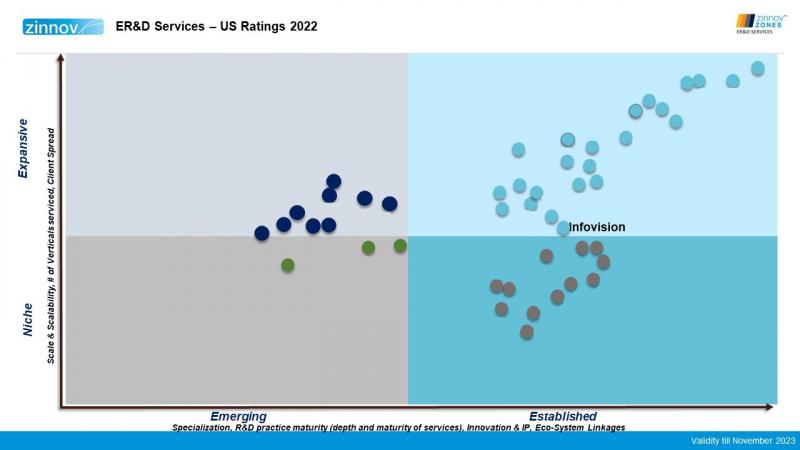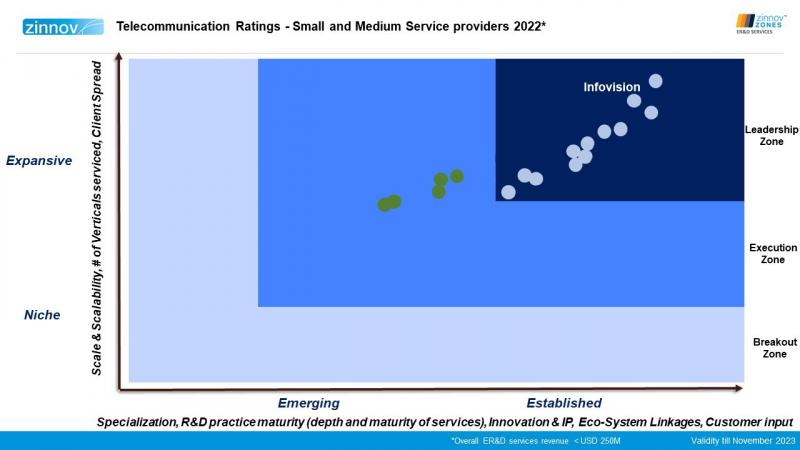 "We are absolutely delighted with this recognition that comes from Zinnov. The stringent '360-degree' evaluation process makes the accomplishment all the more valuable. InfoVision is committed to accelerate digitalization with quality, agility, and integrity for its customers. We are able to deliver on our commitment to customer-centricity through our offshore, near shore, and onshore setups as they facilitate hiring of top-class, diverse tech talent," said Sean Yalamanchi, President, InfoVision.
Sidhant Rastogi, Managing Partner and Global Head, Zinnov, commented, "InfoVision's efforts to deploy cutting-edge technologies and its significant investments, have successfully enhanced its engineering and digital capabilities. Its razor-sharp focus on key industry verticals such as Telecom, Industrial, Telehealth, and Enterprise & Consumer Software in core areas of Cybersecurity, Cloud, Analytics, IoT, Blockchain, and 5G has helped InfoVision drive better customer outcomes. The firm's prowess across platforms and IPs has helped it anchor its position as an established player in Zinnov's 2022 Zones ratings, in the Small and Medium Service Providers segment."
* SM – Small and Medium Service Providers
About InfoVision
InfoVision, founded in 1995, is a leading global IT services and solutions company offering enterprise digital transformation and modernization solutions across business verticals. The company has helped more than 75 global leaders across Telecom, Retail, Banking, Healthcare and Technology Industries deliver excellence for their customers. InfoVision was certified as a Great Place to Work in 2022 and is one of the highest-rated digital service companies in Glassdoor.
About Zinnov
Founded in 2002, Zinnov is a global management consulting and strategy advisory firm with a presence in New York, Santa Clara, Seattle, Houston, Bangalore, Gurgaon, Paris, and Pune. With a team of experienced consultants, subject matter experts, and research professionals, Zinnov has partnered with Global Enterprises, Fortune 2000 companies, Global System Integrators, and Private Equity firms across their value creation journeys to develop actionable insights – across revenue, talent, innovation, scale, and optimization. For more information, visit Zinnov.
Media Relations Contact
Poojitha Jayadevan
Senior Content Specialist
poojitha.jayadevan@infovision.com