The integration between Salesforce and SAP will help achieve better brand value and profits for any organization. Successful integration of these two powerful enterprise platforms creates the potential to strike an equilibrium between business operations and customer relations, which is integral for the success of any product a company launches.
Salesforce is a leading cloud-based customer relationship management platform that provides customized applications and software solutions for sales, service, marketing and analytics. It unites multiple functions of an organization from anywhere with Customer 360, a Salesforce-integrated CRM platform, that powers the entire suite of connected apps.
On the other hand, SAP stands for systems, applications and products in data processing. It is a leading producer of software used for the management of business processes, developing solutions that facilitate effective data processing and information flow across organizations. SAP assists enterprise software to manage both their business operations and customer relations.
A Salesforce SAP integration brings in the possibility of better customer service and enhances business profits. The integration helps organizations across industries, irrespective of its size, run their businesses profitably, adapt continuously and grow sustainably.
Businesses that undergo the Salesforce SAP integration have a unique advantage in managing and tracking customer relationships. While Salesforce manages front-end information about its customers, SAP manages back-end tasks. Organizations that integrate the two, benefit from additional business functions through enhanced productivity and value-added insights. This, in turn, improves customer interaction and experience.
Benefits of Salesforce SAP Integration
Organizations can gain numerous advantages by leveraging the integration of Salesforce and SAP. Some of the benefits that this integration provides, include:
Effective data management with business intelligence capabilities
Improved invoice creation
Real-time error management with troubleshooting services
Processing of orders in real-time for optimal outcomes
Accelerated cash flow, thereby maximizing return on investment (ROI)

The Salesforce and SAP integration is crucial to bring in a 360-degree view of customer data, which enables a seamless customer journey. However, despite its prevalence, getting the integration right is a challenge that many organizations face. The implementation of the integration might not be very straightforward as both, Salesforce and SAP, are complex solutions built to be proprietary and standalone offerings. Neither of the platforms is designed to work with other software, and here's why.
SAP is built as a back-end solution and many of its offerings were created much before the age of cloud computing. On the other hand, Salesforce is a cloud pioneer and created for front-end use. Therefore, a seamless integration requires a planned approach to account for the technological differences between SAP's on-premises solutions and Salesforce's cloud-based solutions.
When an organization plans for Salesforce and SAP integration, mapping out its process in advance will be the best place to start. Approaching the integration through the lens of a process rather than a simple data mapping or end-to-end connectivity will make the business more scalable and efficient. The rapid adoption of cloud technology is impacting how enterprise application support is developed and implemented to assist in the same.
Challenges of integrating Salesforce and SAP
Although the Salesforce SAP integration could translate into multiple benefits for organizations, its implementation could come with its own set of limitations and challenges. Any successful integration requires the right approach and the right set of enabling technologies. Apart from the core approach, other technical issues could include adapters and interfaces, communications, semantic mediation, format conversion and security.
Below are some of the most common challenges encountered during the integration:
Technical disparities as SAP is an on-premise software whereas Salesforce is a cloud solution
Difficulty in synchronizing data from SAP to Salesforce
Salesforce users generate quotes using products and price book information that need to be linked with corresponding opportunities in SAP. Whereas, product and pricing information in SAP needs to be synchronized with Salesforce.
The need to process data in Salesforce before reaching the order and execution phase in SAP also needs to be considered.
Relevant data such as related order history and current financial status need to be accessible in real-time for the Salesforce user.

The idea is to leverage the best approach that is consistent with the organization's integration requirements. Of course, there are several options to achieve optimal integration according to those requirements. The importance of managed IT infrastructure grows manifold during such important operations, a point that every organization must take note of.
Design solution in cloud integration
Below is a graphical representation of the technical workflow, showing the different steps involved during the integration of Salesforce and SAP.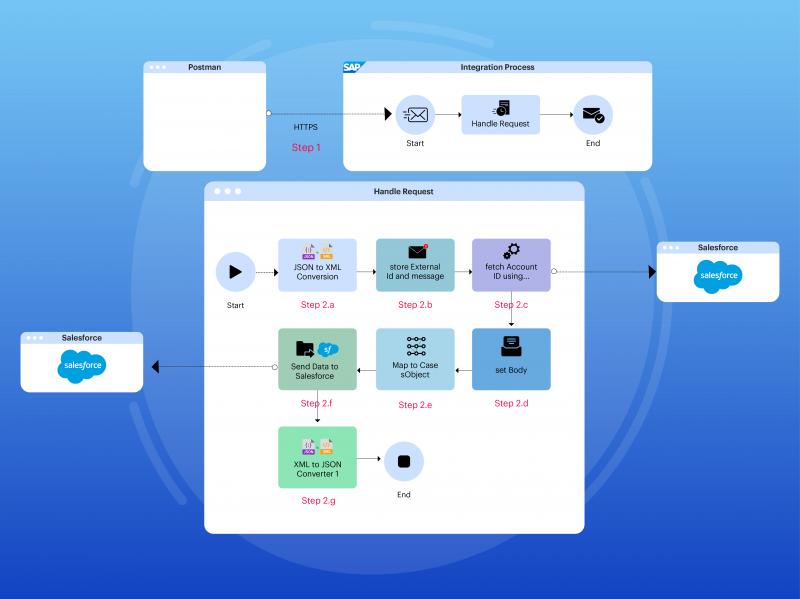 Step-by-step process of SAP and Salesforce integration
The main steps for integration of SAP and Salesforce are as below:
Log in to the Salesforce development account
Go to the setup option and type API in the Quick Find box
Download the required WSDL file
Use the Salesforce WSDL to create the required SOAP project
Create WSDL/XSD with the help of the following steps
Create an upsert request using SOAPui
Subsequently, create XSD for that request using external tools
By importing the external definition, that was created in the previous step, create another ESR object
Message map by creating SOAP requests
Next, an API lookup code is needed for the session ID and server URL
Thereafter an ID configuration is needed
In order to do that, first create 2 ICOs by getting data from ECC and then sending it to Salesforce
Conclusion
As one of the most widely used enterprise resource planning solutions in the market, SAP plays a key role in the most critical aspects of business processes for many companies. To fully automate and optimize these business processes, companies need to integrate SAP with other applications within their organization. Integrating Salesforce and SAP is an essential step since there is a central need to bring these frameworks together to meet the prerequisites of the business.
The individual benefits of both Salesforce and SAP when combined during their integration empower organizations with the ability to turn vital customer data into meaningful and actionable insights. This will allow decision-makers to make crucial business decisions faster, streamline business processes, boost productivity and therefore gain a competitive advantage in the market.
Infovision with its cloud migration expertise and as a managed service provider with its technical staffing services is a trusted partner for achieving Salesforce SAP integration.
To know more about the Salesforce SAP integration, talk to our expert – Dr. Ashwini Raj Kumar, Senior Director – Salesforce, InfoVision.